So far the Trust has published (or has facilitated the publication of) nine books either of Munin Barkotoki's own writings, in original as well as in translation, as well as a few books about him click here for the complete list. Besides these, the Trust has published three more books, one by Munin Barkotoki's closest friend, Krishna Bhuyan (Jibonor Morisika), another about Munin Barkotoki's elder brother Satyen Barkataki and the third about Munin Barkotoki's birthplace Baligaon and the Barkataki family. The Trust published a felicitation volume titled Ananya Renuka in 2016 on the occasion of the 85th birthday of Renuka Devi Barkataki, wife of Munin Barkotoki. Renuka Devi Barkataki passed away on 14th August, 2017. A book with obituary tributes to her titled Snehashila Tejaswini, was published on her Adya Shraddha day by the Trust in August 2017.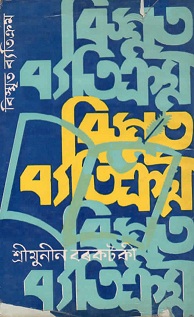 A book titled Munin Barkotoki Bota: Grantha aru Prapaksakal about the Munin Barkotoki Awardees (1995-2014) and their award-winning books, edited by Lutfa Hanum Selima Begum and Kushal Dutta was published by the Trust in 2015. Moreover, another book titled Winners All (MBMT 2011, Bhabani Books 2013), is a collection of translated stories and poems of the Munin Barkotoki Awardees for the period 1995-2004. Edited by Pradip Acharya, the translators are Mr. Acharya and Meenaxi Barkotoki. The next volume for the next 10 years is due soon.
Another project initiated by the Trust, more than a decade ago, is a compilation of essays in English about some of the most prominent socio-literary luminaries of Assam. Edited by noted poet Hirendranath Dutta and Stuti Goswami, this collection has been published by the National Book Trust in 2018 and is titled Warp and Weft: Makers of Modern Assam.
A graphic novel by Shisir Basumatari, based on Munin Barkotoki's life and diaries, has just been published. Titled The Real Mr. Barkotoki the book has been published by Speaking Tiger.
In the coming years, the Trust hopes to publish a book of letters written to and by Munin Barkotoki.